Steeped in history, around every corner of Cork City one will come across another panoramic view, another interesting architectural feature and some of the best art galleries, theatres and museums in Ireland. In 2005 Cork was designated European Capital of Culture and in 2010 was awarded the accolade of one of the top ten cities in the World to visit by Lonely Planet Best in Travel.
Cork city is the shopping and commercial capital of the south, yet it still manages to retain the pleasant charm and friendliness of a country town. Like the rest of the Cork area, food and restaurants are an important feature of the city. Visitors can choose from Cork's many restaurants and cafes or browse in the famous English Market where Irish food and Cork delicacies can be seen in all their glory.
Cork Air Access
There are direct flights to Cork from most major UK airports. There are also scheduled flights to cork from France, Germany, Iceland, Italy, Netherlands, Poland, Portugal, Spain, Switzerland, and United States.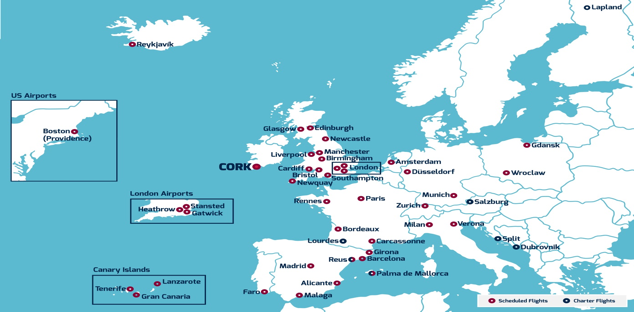 Accommodation
---
---