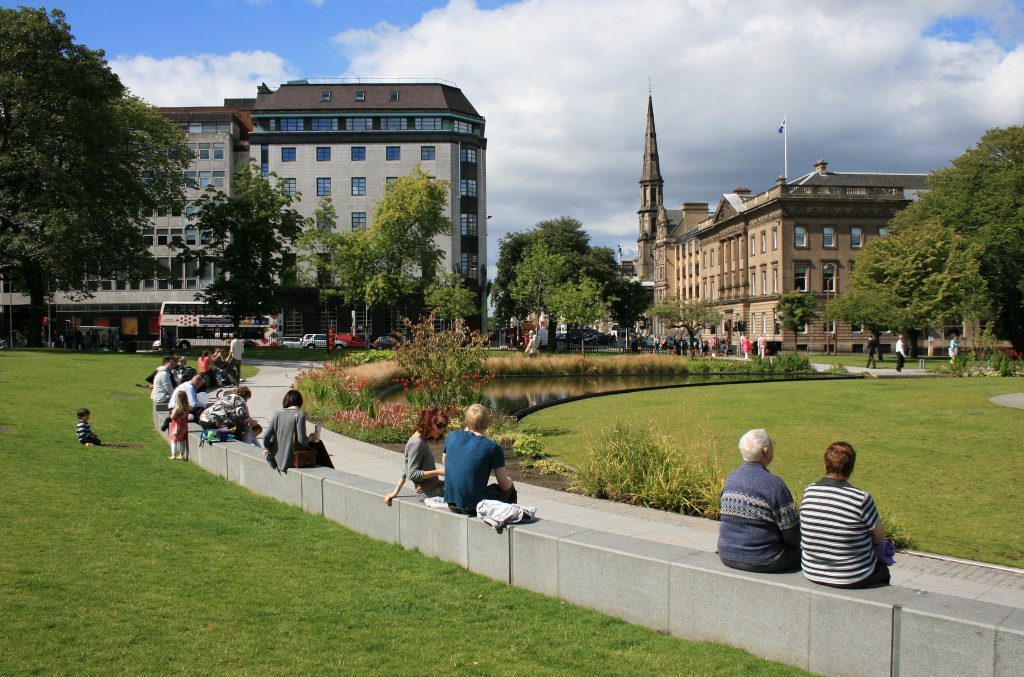 This year, The Academy of Urbanism is running its annual Congress (virtually from Edinburgh) on the theme of Responsive Cities: Adapting under pressure. We will be considering what the contemporary pressures are, and how cities are adapting to these in order to create healthier, happier, safer spaces and places.
Through this call for papers, we are inviting AoU members of all ages and backgrounds to put forward proposals to give short presentations.
The Congress will take place online over 16-18 June 2021, with the call for papers session taking place on 18 June between 11am-1pm (precise times might change).
Deadline for submissions – COP 5pm, Monday 24th May
Presentation brief
We are looking for 5 minutes of insight, inspiration or inventiveness. The following are some scoping themes and prompt questions to think about:
Identifying the Pressures
What are the current issues that put our towns and cities under pressure and require them to adapt?
Climate change, pandemics, economy, tourism, health and wellbeing, poverty, lack of equality, lack of diversity?
Meeting Needs and Demands
What can we adapt in our urbanised society to ensure our needs can be met, whilst also reducing pressures on our cities, towns and neighhourhoods?
Housing construction and energy use, Transport and travel, Work locations, Friendships and families, Shopping, Education and health, Sport and leisure, Hospitality and entertainment, Agriculture and food production, 20minute neighbourhoods?
Transforming Places
What physical changes should we be making to future-proof our towns and cities?
Location and urban form, Transport systems and movement networks, Density and design of homes, Range of workplace types, Shops and markets, Streets and public space, Educational and health provision, Cultural and entertainment facilities, Drainage and greenspace networks, Heritage and identity?
Wellbeing Economy
How can we progress our economic thinking and practice so that our cities experience less negative pressure and secure more citizen and environmental benefits?
Community wealth-building, Co-operatives, BIDs, Enterprise designations, Freeports, Regional levelling up, Social value procurement?
Changing Behaviour
How can we personally modify our lifestyles to put less pressure on our neighbourhoods, towns, and cities and in doing so improve our health and wellbeing, reduce our carbon footprint and be kinder to our planet?
Living more sustainably, COP 26 pledges, Less waste, more recycling, Planning for a more diverse and inclusive population, Forging relationships between different generations, genders and ethnicities, Designing crime out and safety in?
Updating Governance
What is the best way to organise and govern a city to manage its pressures and build resilience?
Local government reform, Involving people locally, Collaboration and co-design, Tighter regulation or freer markets, Funding mechanisms, What role for planning?
Radical or Contrary Viewpoints
If you have a 'different' view that
cities aren't really under extreme pressure, or
there is no need for significant adaptation, or
we have an old/recurring problem that we already know how to deal with, or
you have better, fresher ideas
We are looking for varied contributions from people at all stages in their lives and careers.
If you have an unusual, dynamic, fun or shocking idea – please let us know. It could be
a short video or animation
a presentation
a poem
a piece of music
a visual presentation or soundtrack
Click the link below to register your proposal and our Congress team will select the ones that can fit our theme.
Deadline for submissions – COP 5pm, Monday 24th May