Day One – Friday 15 September
13:00-18:00
(The programme and times may be subject to change – further details and regular updates will be available on this page)
Taking place on day one of Congress, the afternoon bus trip will explore projects outside of the centre of Aarhus. These will include neighbourhoods, affordable housing, sustainable forms of transport and some cultural venues.
Sites include: Gellerup 1970; DNU; Lisbjerg; NEYE; Lystrup; Egga Engsø; Rosenhøj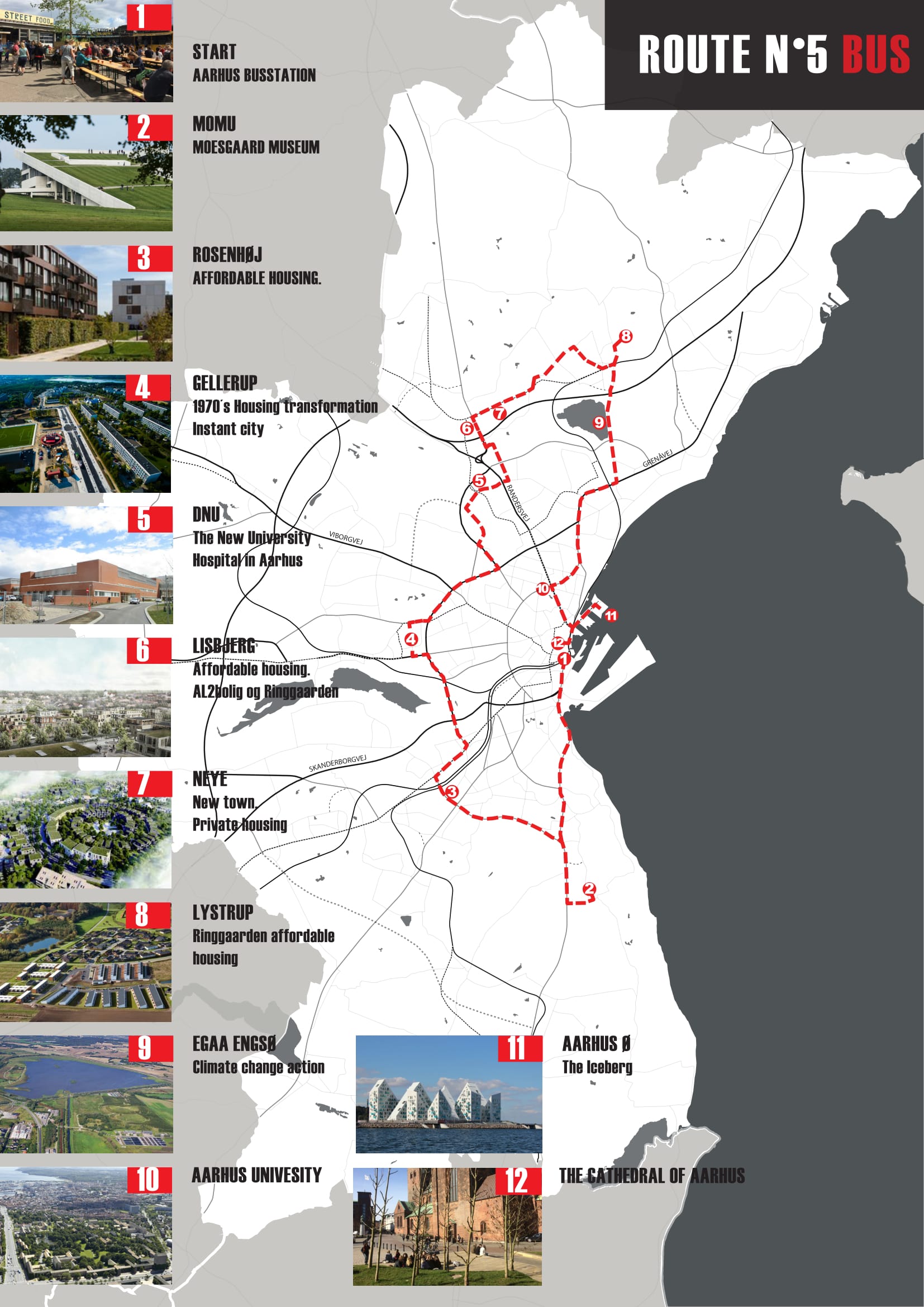 Gellerup & Torveshøj, Aarhus West – Guided tour
Massive investments (approx. 9bn Danish Kroner) over the next 20 years will make profound physical and societal changes to these areas to create an open, attractive neighborhood with businesses, educational institutions, owner- and tenant-homes, good amenity spaces and a well-established network of safe roads and paths. Instant City is an exciting with is innovative zone centrally located with exhibition and recreation facilities for the younger generation and entrepreneurs.
Rosenhøj, Viby – Guided tour
Every quarter has its own identity. Based on this concept, the whole plan divides Rosenhøj into smaller neighborhoods, consisting of a residential street with two blocks of flats, new terraced houses with two floors and a common garden. In addition to establishing a close relationship between two blocks of flats, new roads and a recreational path system provide diversity and new landmarks. To emphasise the diversity, the housing blocks are performed in four distinctly different facade materials.
Agro Foods Park – Drive by
Agro Food Park will be the leading innovation and growth center for food in Denmark – and among the leaders in the world. This is where the products of the future are to be created by exciting companies, research institutions and educational institutions in a fruitful partnership. Today, there are about 1,000 people in Agro Food Park.
DNU- New University Hospital – Drive by
Denmark's largest hospital building project, The New University Hospital in Aarhus is being built together with the existing Aarhus University Hospital, Skejby, into a new hospital complex.
Light Railway
Denmark's first light rail will run in Aarhus in 2017. The expansion of public transport by a light rail will help connect Aarhus in a sustainable manner. The light rail opens on September 23, 2017 From the Aarhus H – Aarhus University – Aarhus University Hospital in Skejby.
Lisbjerg
Lisbjerg is Denmark's largest urban development project with a unique location in the middle of the landscape and at the same time part of Aarhus.
Over the next few decades, Lisbjerg will transform into a close and vibrant city for up to 25,000 inhabitants. With Lisbjerg, Aarhus Municipality is creating a whole new type of city that, through sustainability, architectural quality and green spaces, is a framework for the good life. Here, the communities of the original country town combine with the city's diversity and city life, combining the best from suburb and city.
With direct light rail link and a new super bike path to Aarhus city center, there will be easy access to the city's cultural offers and many jobs. Lisbjerg is also beautifully located in the hillside, with magnificent views of the countryside and the city.
Nye – new sustainable community – Drive by
The project is to be built north of the new Engsø, where the area is partially owned by Tækker Group. The city must have between 10,000 and 15,000 inhabitants and the ambition is that the area should be built according to city ecological principles. New solutions for resource consumption, environmental impact, transport conditions and nature are integrated into the project.
Lærkehaven in Lystrup _ Guided Tour
The total affordable housing neighbourhood consists of three housing units with a total of 122 homes, and is the largest total sustainable and climate-friendly housing development in Denmark. And at the same time one of the finest collections of wooden houses in Denmark.
Egå Engsø Climate Change interventions – Drive by
The great cloud burst in Aarhus in August 2012 put a thick line below the value of the creation of Egå Engsø six years earlier. The cloud burst caused considerable floods also of residential areas, but without the new wetlands a much larger number of houses would have been hit.
Parking and bicycle terminal at Egå Engsø – Drive by
Aarhus Cykelby offers commuters locked bicycle parking 24 hours a day – all year round. The bicycle terminal contains two circular bicycle boxes with a total of 56 bicycle storage rooms.
Aarhus University Campus
The famous Aarhus University Campus Park, started in 1931 initially designed by C.F. Møller Architects, Kay Fisker and Landscape Architect C. Th. Sørensen. This will include a presentation by Partner of C.F. Møller Architects, Julian Weyer.