Imagine the world's first 3-D printed housing project, down the street from a high-rise apartment building, sprouting plants and trees. Around the corner sits a hot-spot, industrial-chic residential and commercial complex, formerly a sprawling light bulb factory.
But you don't have to use your imagination – the "3-D Project Milestone" and the "Vertical Forest" are already in production and the first businesses at the Strijp-S development opened in 2011. And those are but a few of the unconventional architectural achievements in Eindhoven, the fifth-largest city in the Netherlands.
In fact, an impressively long list of projects – some completed, others in progress, and still more on the drawing board – are landing in the city at high speed. While all differ, they share key similarities – invention, innovation and collaboration, with special attention paid to technology, design and sustainability, all hallmarks of "the Eindhoven way."
A testament to Eindhoven's convictions was the appointment of three world-renowned Dutch architects – Winy Maas as Supervisor of the Inner City, Adriaan Geuze for Strijp-S and Kees Christiaanse for the city centre public space. Together they advise on all urban plans for the city centre, focusing on cohesiveness regarding architecture, urbanism and public space.
Maas, who lists Rem Koolhaas as a mentor, co-founded the global architecture and urban planning firm MVRDV. Its notable projects include the Market Hall in Rotterdam and Grand Paris Plus Petit, the vision for greater Paris.
Although this bold move will take Eindhoven to even greater places, the city's energy has been pulsating for more than a century, ever since the manufacturing giant Philips set up shop here in the late 1800s. The company designed groundbreaking inventions, from light revolution to product evolution. Along the way, it built massive factories, employee housing, cultural institutions, a signature spaceship-shaped showroom and even a soccer stadium.
In 1997, Philips moved its headquarters to Amsterdam, after much of its production moved overseas. Eindhoven took this challenging turn of events as an opportunity do what it does best – work together, think smart and continue to move forward.
Ironically, Maas points out, although Philips, in effect, built up Eindhoven, it structured the city in a way that benefited the company over its residents, which now number more than 230,000.
Of course Maas is not acting alone in transforming Eindhoven. He adds his inspirational and authoritative voice to an already celebrated choir that includes the city's talented workforce, progressive government leaders, and players like Design Academy Eindhoven, Technical University Eindhoven, Brainport, and the High Tech Campus, along with a host of established developers, inventive housing corporations, technical companies, start-ups, designers and other creatives.
While the attention to the inner-city is new, large regeneration projects have been going on ever since Philips left behind empty factories.
One of the first was the Witte Dame (White Lady), completed in 1998. The project, designed by Eindhoven architecture firm DiederenDirrix and completed in 1998, converted 37,000 square meters of space into a multifunctional building for design, art, information and technology. The historically important building was conserved by reusing the shell for new functions, including Design Academy Eindhoven, the Eindhoven Architecture Center and the main branch of the public library.
DiederenDirrix has since become a specialist in building repurposing and renovating historic buildings, including "Anton" on Strijp S – a former Philips radio factory that was converted into residential lofts, retail and office space. The firm's co-founder Paul Diederen was appointed Professor of Transformational Design at Technical University Eindhoven, indicating again that the forward-thinking city is committed to reuse and sustainability.
Regardless of whether architects, developers and housing corporations are working on restoration projects or new buildings, architectural innovation in Eindhoven is thriving.
Maas even calls the decision to appoint an outside urban supervisor "courageous and exemplary. A lot of cities would not be so brave. It means they welcome the chance to be active, to be inspired and inspiring. For Eindhoven, this is a fascinating moment."
While Maas and other Eindhoven thinkers and doers map out the highly anticipated future of the inner-city, we'd like to also introduce you to several projects in surrounding neighborhoods that have made their marks by doing things the Eindhoven way.
Completed projects that can be viewed
Space-S: Bringing power to the people
This unique project to create affordable/social housing gave future residents a voice from the very beginning, creating a remarkable and enthusiastic bottom-up approach. Eindhoven housing corporation Woonbedrijf asked interested renters to share their housing requirements in workshops, meetings and via Facebook, and the results and progress were shared with them regularly.
The development, in the vibrant Strijp-S neighborhood, consists of seven buildings, including a residential tower of about 54 meters, for a total of 402 rental units. The space includes a mix of housing types: apartments, lofts, student residences and homes with extra room for hobbies or work. The initial findings were used as part of the design process with Eindhoven architecture firm Inbo. For example, residents opted for separate blocks with green spaces and roofs instead of a closed residential blocks, conducive to community building.
Space-S won several awards, including the 2017 Dirk Roosenburg architectural prize. The award, announced during Dutch Design Week, aims to promote the quality of the built environment in Eindhoven. The jury praised Woonbedrijf for having "the courage and perseverance" to develop and design a project in this manner and said that Space-S illustrates the changing role of the architect when designing urban living projects.
Anton and Gerard: Celebrating side-by-side innovation
These impressive historic buildings, once Philips radio factories, were transformed in 2013 to create residential loft, retail and office space. What remains the same – inside and out – is a beautifully updated industrial identity revealing layers of old and new. The names honor Anton and Gerard Philips, the brothers who grew their family business into a world leader in electronics. Likewise, these projects from developer Sint Trudo showed Strijp S and Eindhoven to be leaders in forward-thinking urban architecture, with reuse and sustainability at its core.
Two renowned architectural firms worked on the project – Eindhoven's DiederenDirrix Architecture on Anton, and Jo Coenen Architects from Amsterdam on Gerard. The end products are very different. Anton features a number of stagerred oval stairwells and corridors. As a result, vertical, horizontal and diagonal lines of sight emerge across the floors. The staggered corridors give residents and visitors an optimal view of the floors above and below, which transforming them into real places to meet. The focus of Gerard is an infusion of light and air. On the north side, rooflights allows daylight to penetrate deep into the communal corridors. On the south side, patios create a connection with the outside.
Driven by sustainability, both designs are based on a thermal storage system, employ water-saving system that uses gray water. Both buildings have roof gardens for residents.
Sectie C: Coupling creativity with collaboration
Just east of Eindhoven city centre, Sectie C (Section C) is a 2.43-hectare (6-acre) unassuming space that was once occupied by equipment manufacturers. In 2010, it was transformed into a workspace and community for creatives. Step into the studios of more than 250 entrepreneurs here and you'll find an endless supply of talent including designers, artists, musicians and communicators. Long-time occupants include ceramics designer Elke van den Berg; Nacho Carbonell, internationally known for his fantastical free-form furnishings; and Jelle Mastenbroek, a designer, artist and inventor. Clusters of low-lying buildings are arranged around several courtyards, used for both planned and impromptu gatherings. While most studios here are closed to the public, the doors open wide during the Dutch Design Week, during which Sectie C becomes a major draw with its open workshops; food and drink locations; and musical performances.
The Sectie C management team encourages collaboration among the creative sector and is working on talent development, inclusiveness, social connections, education, experimentation and sustainability.
Hovenring: Floating above the traffic
This spectacular "floating" circular cycling bridge received international attention when it opened in 2012 – and visitors from around the world still come to see the engineering marvel. The cable-stayed bridge, designed by ipv Delft, offers cyclists and pedestrians a safe and attractive crossover. Like a flying saucer, the steel bridge hovers above an intersection straddling Eindhoven and the adjacent town of Veldhoven.
The bridge comprises a 70-meter (230 feet) high pylon, 24 steel cables and a circular bridge deck. One of the challenges of the design process was the spatial integration. The existing infrastructure and buildings set the boundaries for the grades of the slopes leading up to the roundabout. The LED ring of light around the bridge at night gives it a spectacular appearance. By both night and day, the bridge is a true eye-catcher, spectacular in its simplicity. A testament to Eindhoven's collaborative spirit, the Hovenring is the result of close cooperative between designers, engineers, urban planners, and interest groups.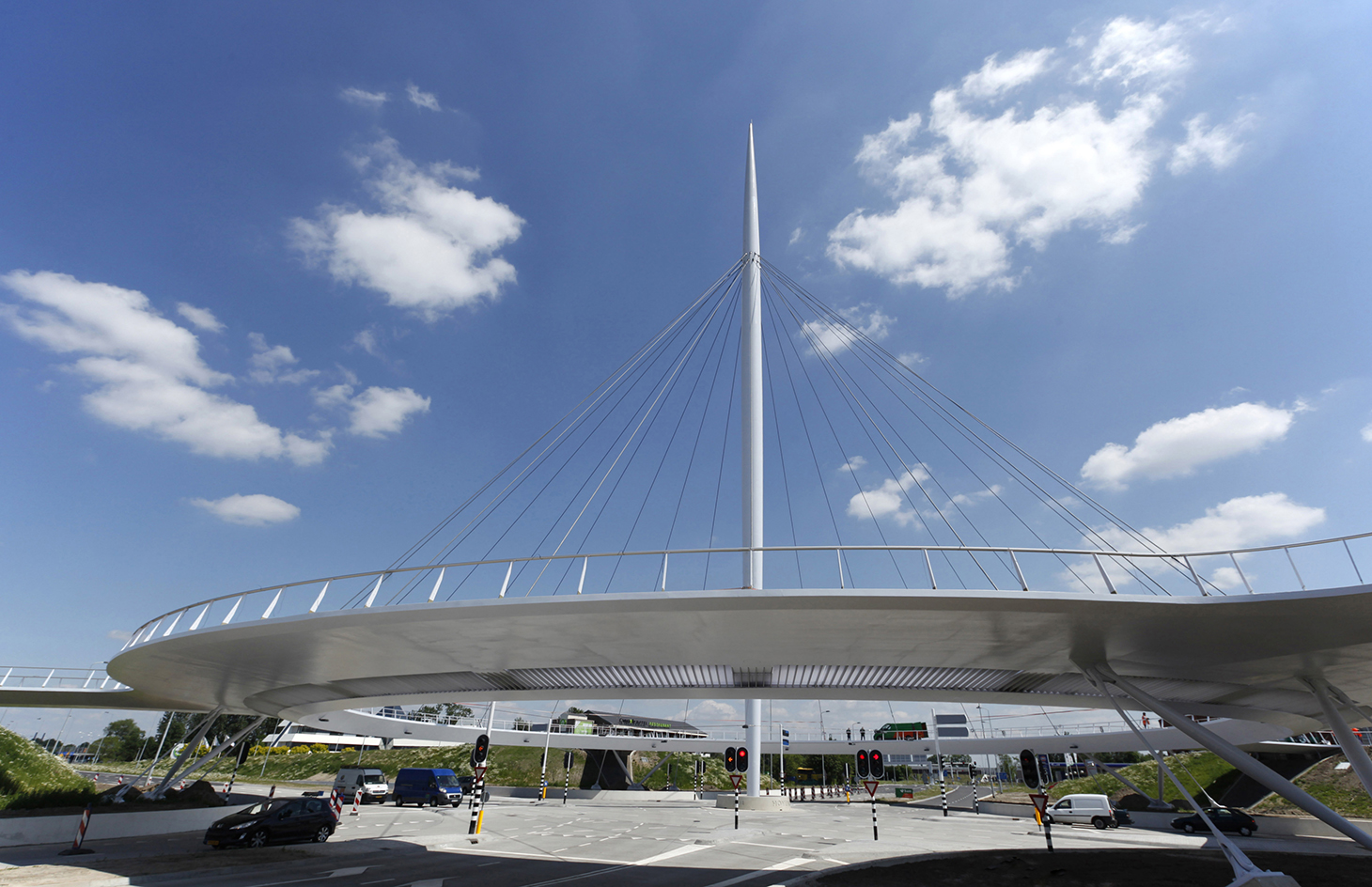 Architectural projects still in the works
Vertical Forest: Nurturing nature on high-rise towers
Imagine a building as a green space itself, pleasing to the eye while also contributing to metropolitan reforestation and counteracting atmospheric pollution by absorbing the carbon dioxide. That's the intention behind developer Sint Trudo's Vertical Forest (Bosco Verticale), a stunning sustainable residential building graced by balconies with hundreds of trees and plants. The Italian firm Stefano Boeri Architetti has created similar structures in Milan and is working on others across Europe and in China. But Eindhoven's will be the first to be developed as an affordable-housing project. It i50s expected to be completed in 2019.
The tower's 19 floors, situated in Strijp S, will target younger urbanites squeezed by a housing shortage. Each of the 125 apartments will have a surface area of under 50 square meters and the exclusive benefit of one tree, 20 shrubs, and more than 4 square meters of terrace. In total, the 75-meter tall skyscraper will provide a home to 125 trees and 5,200 shrubs and plants. The vegetation, which will create an authentic ecosystem, serves as cornerstones of the project rather than mere ornamental elements.
The project's architectural botanist, Laura Gatti, will work closely with Du Pré Groenprojecten in Helmond and Van den Berk Nurseries in Sint-Oedenrode, while Sint Trudo will handle the maintenance work.
Campina: Designing a new urban neighborhood
What was once a large dairy factory complex owned by FrieslandCampina is being transformed into a progressive urban development along the Eindhoven Canal, just east of the city centre. Campina's historic factory buildings will become the heart of the new district, which will be called De Zuivelfabriek. The mixed-used area will include residential, commercial and work space, as well as sections for recreation and gathering. A forward-thinking system of car-free transportation will include safe access for bicycles and pedestrians. And instead of traditional streets and sidewalks, shared spaces will invite conversation and community. The concept is being developed by urban design experts Studioninedots in collaboration with landscape architect Delva, both based in Amsterdam.
During the time the neighborhood is being created, between now and 2030, the space also is being put to creative use. Starting in 2018, Campina will host the annual exposition Robot Love, as well as the popular graduation show of Design Academy Eindhoven, a highlight of Dutch Design Week, where more than 150 graduates show their work.
Project Milestone: 3D-printing a new way to live
Eindhoven is a hot spot for 3D-concrete printing, with the Technical University Eindhoven leading the way. A research group headed up by concrete technology professor Theo Salet recently printed and installed the world's first 3D-printed concrete bridge for cyclists in the nearby village of Gemert.
Now the group is designing the first-ever community of 3D-printed concrete homes in Eindhoven. The university is working with the city to fabricate five irregularly shaped futuristic looking houses that they describe as "erratic blocks in the green landscape." Called "Project Milestone," it is going up in the Meerhoven neighborhood, with the first house due to be completed in 2019. The debut structure will be a single story with three rooms and around 92 square meters. But future homes will be larger, with multiple levels. The five houses will be built consecutively, so that innovations and lessons learned from previous ones can be applied in the next house. All homes will be compliant with government housing regulations.
Other project partners include contractor Van Wijnen, real estate manager Vesteda, materials company Saint Gobain-Weber Beamix and engineering firm Witteveen+Bos. The community is expected to be completed by 2024, and Vesteda, the prospective buyer, plans to rent out the houses.