Ahead of the Congress, Dr Nicholas Falk AoU shares a short article introducing the Dutch context, providing four short case studies and suggests some places to visit whilst in the Netherlands. Fortunately everywhere is quite close, so do take some time to visit other towns and cities while you are there.

Historic context
The Academy of Urbanism's Congress in Eindhoven in June provides great opportunities to learn from a country whose history closely parallels that of the United Kingdom, but which has taken a very different approach to development. Indeed more than any other European country, they offer lessons on how to build good and sustainable neighbourhoods. Their culture has helped, as a small, dense population had to collaborate to keep water out (as much of the country is below sea level). They also had to fight to secure religious freedom from the Spanish, who once ruled the Low Countries. Relying largely on wind power, the Dutch built great cities in the 17th and 18th centuries linked by canals. Their empire rivalled the British, and they once owned New York. Most visitors will know Amsterdam, and perhaps have seen the new settlement built out of the River Ij called Ijburg, or the innovative streets in Java and Borneo Islands.
Occupied by the Germans in the Second World War, large areas had to be rebuilt after war-time destruction, most notably the great port of Rotterdam. The Dutch economy thrived as an integral part of the European Union. But most significantly of all for urbanists, in the late 20th century the Dutch pioneered the idea of City Deals with their main cities. The results can be seen in places such as Kop Von Zuid in Rotterdam, which can be compared with Southwark and London Docklands. Dutch cities also had to deal with the challenges of social polarisation and immigration. Significantly, housing associations have played a much larger role in building new housing, helped by local authorities who took on the roles of assembling land and putting in place essential infrastructure.
The VINEX housing programme then built a hundred urban extensions in a country with population a quarter the size of the UK. The Dutch policy was to extend towns with more than 100,000 inhabitants through developments that were well-connected by public transport, with 30% of the housing being for those on lower incomes. The results are very mixed architecturally, and most of the developments were around 2,000 homes, but a few were as large as 10,000 homes. Some of the best achievements can be seen in the New Town of Houten, to the South of Utrecht, or at Vathorst, one of three extensions to the historic junction town of Amersfoort to Utrecht's North. If you have time you might also try to see the new town of Almere, with its large area of custom-built housing at Almere Poort, while its main shopping centre provides another model for how to inject life and character into what was previously a nondescript area. Let's start in Eindhoven and finish in Vathorst.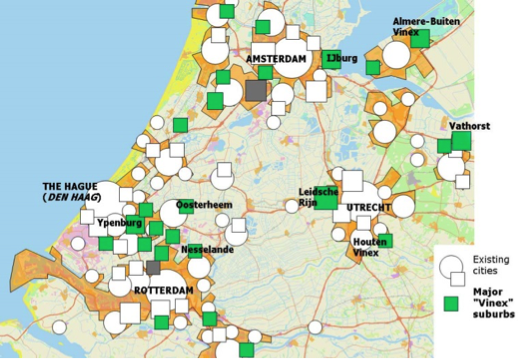 Fostering creative living: Eindhoven
The previous Mayor of this industrial city in Southern Netherlands, Rob Van Gizel, came from a national political career to lead the city in 2008. His book The City that Creates the Future stresses the importance of experimentation and collaboration, a process which he believes grew naturally out of being a poor agricultural area where cooperation was essential for survival. When the electrical giant Philips closed its factories, the Mayor succeeded in getting all the surrounding towns and cities to work together. Housing played a key role in the city's renaissance. Strijp S is one of the huge old Philips industrial sites that has been turned into a mixed neighbourhood. Development of loft apartments, with shops and business units on the ground floor, has been led by Trudo, a local housing association, which has built 5,000 units so far there.
Housing associations took up opportunities that conventional developers would ignore, and are involved in providing discounted housing for sale – smart housing – as well as renting to a much wider range of people than in the UK. Because housing is affordable, young people stay and go on to bring up families in the city. There is much better access to both land and finance, and while Eindhoven promotes itself as the Garden City because it has so much green space, it is in the form of green fingers, not a green belt.
The proximity of other creative people, some 2,500 designers for example, enables the inter-trading that allows new businesses to take off so readily, and to survive the birth pains. So too does the easy availability of a wide choice of housing, with around 20,000 now living in the centre, ten times the number of a few decades ago. Eindhoven is in the forefront of innovations to make healthier living easier, and is collaborating with Manchester on a programme to promote mobility. In his book Rob van Gijsel asks 'why not use all that power to combat European disintegration? Why don't we create a framework which enables urban areas in Europe to interconnect, interactively and intensively, in schemes and substantive alliances which focus on tomorrow's challenges?'
Reuniting a port city: Kop van Zuid, Rotterdam
The gigantic port of Rotterdam has suffered in the past from a poor image and a declining population, especially in the Southern docklands area known as Kop Van Zuid. In the 1980s initial plans to build social housing were replaced by a bolder vision for a new mixed-use quarter to help change the whole city's appeal. The project started with building the iconic Erasmus Bridge, a new metro station and an extension to the city's tram system, while the railway lines that once cut the area off were put underground.
The City Council took responsibility for developing and delivering the regeneration strategy. This was under the Dutch Major Cities Policy (originally just for the four largest cities but expanded to involve 30 towns and cities), which was a precursor for the UK's City Deals. The City's Development Corporation managed the scheme, involving a whole range of private and public partners. The improved infrastructure and accessibility helped convince the private sector to invest. Significantly the City Council established a Mutual Benefit programme to spread the benefits to poorer areas nearby. A distinctive element was the Opzoomeren policy, which supports community initiatives in improving their street or block, starting with a street party. Rotterdam has thrown off its image of an ugly post-war city to become a desirable place to live and to work.
Diversifying a new town: Almere Poort
Almere, a new town built on restored 'Polder' land North of Amsterdam, has gained a reputation for pioneering 'self-build' or 'custom-build' on a major scale. Almere was built on council owned land, which made the aim of providing affordable housing for low-income households of €20,000 (£14,500) a year far more feasible. The area was first master-planned by the local council and split up into different districts for different demographics (sustainable, terraced, lower-income for example).
The local authorities then installed the infrastructure and services, and each plot was sold at a fixed m2 rate and came with a "passport" which contained a list of restrictions for the self-builders adhering to planning regulations. These regulations dictated building height, style, relation to surrounding plots, and materials. However a great deal of creativity and choice was still left to each resident allowing houses to be tailored to their specific needs and family size. This not only has the large benefit in delivering adaptable and diverse communities at lower costs that residents are proud of, it also creates a sense of community in the process. However there can be some pitfalls such as longer and more sporadic building times, and the local authority needs to underpin the investment.
Creating sustainable suburbs: Vathorst Amersfoort
Vathorst is an excellent example of the success of the Dutch VINEX programme, and has also pioneered the principles of using the mix of housing to rebalance communities. The local authority of Amersfoort is a prosperous Dutch town with a population of more than 140,000 and lies to the North East of the City of Utrecht on an important railway junction and at the crossing of two motorways. It is now regarded as one of the 'greenest' towns in the country, and the city council has promoted three urban extensions, two of which form part of the VINEX programme. The latest, Vathorst, consists of some 11,000 homes plus shopping facilities, business and community facilities. In 1998, the municipality of Amersfoort and the Dutch government drew up an agreement on the size of the extension, the contribution they would make to reclaiming contaminated land, and how the settlement would be connected to the two motorways it adjoined. Political leadership was key to overcoming inertia and local criticisms for redeveloping land previously occupied by greenhouses.
The Vathorst Development Company (OBV) was set up as a 50:50 joint venture between the local authority and a consortium of five private landowners and developers. The private developers were willing to pool their land because finance would be cheaper, securing planning permission would be easier, and because they trusted those in charge. There was also the incentive of the Dutch Building Rights law, which gives local authorities the 'first choice' in developing land identified for major housing. This model has become common within the Dutch development sector and reflects the culture of collaboration that exists in the Netherlands.
Conclusions
In a report for Shelter based on case studies of affordable housing, mainly drawn from cities the AoU has studied, five conclusions were set out which are supported by the available statistics summarised below. Experience shows the danger of building large isolated housing estates for those on lower incomes that become stigmatised. Consequently quality matters, and it is vital to design and then manage higher density housing so that conflicts are avoided . Indeed local authorities need to play a much more proactive role, and learn from Dutch experience in how to create communities that work well for everyone. Social housing should be carefully mixed with market housing, with everyone having a stake in the neighbourhood. New housing needs to be more than just affordable, or 'tenure neutral' and so factors such as balance and integration are important parts of the design process.
1. Affordable / social housing eligibility
There are real benefits in providing a balance or mix of housing, especially in new settlements, where housing can be used to make existing communities work better or break down prejudices. Thus in Austria, where social housing makes up 23% of the housing stock, 80-90% of the population are eligible. In the Netherlands it has an even larger role – it makes up 40% of the stock and 57% in a city like Rotterdam.
2. Balance
51% of immigrants in the Netherlands live in social housing, and make up 31% of the residents. This compares with 27% and 16% respectively in the UK, which highlights the important role played by private rented housing in achieving integration. In the Netherlands Private Rented Stock (PRS) accounts for 9% of the stock and 59% is owner occupied.
3. Ownership and the role of housing associations
Dutch housing associations own 32% of the housing stock and ¾ of tenants rent from housing associations. In comparison in the UK only 18% of the housing stock is owned by social landlords, whereas private rentals at 17% are almost as important. Some 500 Dutch housing associations own 4,500 units each on average. In 1995 policy switched to what is called 'Grossing and balancing', a practice pioneered in Vathorst in Amersfoort.
4. Integration
In Germany after reunification, social housing units fell from 4 million in 1980 to under 1.4 million in 2012. However coops now make up 11% of the housing stock, and provide a useful alternative to owner occupation. In Copenhagen in Denmark coops are even more important and account for 30% of housing compared with 20% for social housing. Couples or families account for 48% of the housing stock but only 27% of social housing, which tends therefore to cater for those who might otherwise be isolated.
5. Housing form
The Dutch, like the English, like to live in individual houses. Half of the social rented stock is single family housing. However in all countries lifestyles are changing, and a growing number are choosing to live at higher densities near city centre, where they benefit from higher levels of services such as public transport or places to eat. In an increasingly global economy, it is possible that attitudes may change to who people want to live near so long as basic standards can be maintained, especially in the public realm.
Dr Nicholas Falk AoU is executive director of the URBED Trust