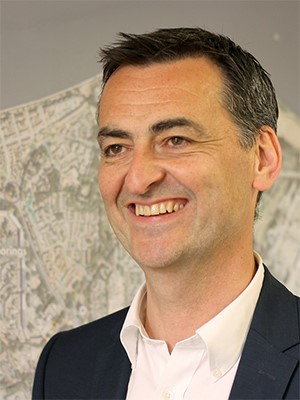 John is an Executive Director at Peabody leading one of London's largest regeneration programmes which will position Thamesmead as London's New Town creating 20,000 new homes of all tenure types to help meet the Capital's housing needs. Previously he spent 6 years as CEO of Letchworth Garden City Heritage Foundation, a self-funded charitable organisation providing support services to maintain and enhance the world's first garden city. John joined the Heritage foundation from Milton Keynes Partnership, a subsidiary of the Homes and Communities Agency, where he was CEO responsible for the economic and housing growth of the new city. John is a professional member of the Royal Institution of Chartered Surveyors and has a Master of Arts in Urban Regeneration. He is Chair of Greatwell Homes.
Creating London's New Town – The Plan for Thamesmead
Thamesmead was built in the 1960s, planned as an ambitious 'New Town' for London. It was intended to be a utopian city, a place that brought together people from all walks of life and provided them with a new way of living. Unfortunately, that potential was never fully realised.
Peabody became involved in Thamesmead in 2014 and launched its Plan for Thamesmead in 2018 which sets out Peabody's 30-year vision for Thamesmead. The vision is to realise Thamesmead's potential to be London's new town, with the aim to create a place that by 2050 will be a town of more than 100,000 people who will be proud to call Thamesmead home.
The area will offer homes of all shapes, sizes and tenures, bringing together people from different walks of life. The homes will be comfortable, the neighbourhoods will feel safe and secure, and the town well managed and cared for. Parks, waterways and nature will be woven into the everyday and getting into and across Thamesmead will be easy.
Activity in Thamesmead will be home-grown. "Made in Thamesmead" will be a badge worn with pride. A place of opportunities where you can find purpose and make the most of your life. Living in Thamesmead will bring a sense of connection making residents feel that they belong. The town's identity can evolve from its unique heritage, and its future built by the collective energy of the people who live there and care for it.
Peabody's mission is to improve, grow and look after Thamesmead for the long-term – which means that as London's Housing Association it will use its expertise as place makers, patient investors and stewards to make a lasting contribution to the physical, social and environmental wellbeing of the area, for the community today and for future generations.
To fulfil Thamesmead's potential as a great town a 'whole place approach' is being taken, joining up the regeneration, investment and management of the town.
John will be sharing how he is leading their change programme to ensure Peabody's Plan for Thamesmead can be achieved. He will expand on their whole place approach to discuss the four strategic themes: Pride and Aspiration, Designing for People, Stewardship, Made in Partnership that provide structure and focus to their delivery plan, setting out the challenges ahead to achieve their long term aims and aspirations for Thamesmead