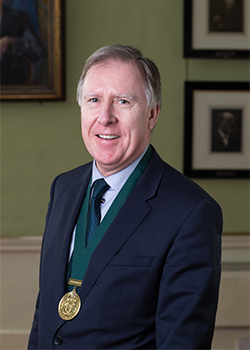 David Browne is RIAI President for 2018-2019. He was elected to the RIAI Council and was Honorary Treasurer for 2016-2017. David was made a Fellow of the RIAI in 2001.
David Browne is the Managing Partner of RKD Architects, a leading architectural, project management, master planning and interior design company, which specialises in providing services for public and private sector projects across many building types including healthcare, research, education, industrial, commercial and residential development. David has a reputation for integrating innovative design with the functional and technical requirements in his projects. He has much experience of bringing together the disparate goals of multi-member client teams and is well used to complicated and fast track programmes. Along with this, he is skillful in the art of finding common ground and leading teams to work in a collaborative way to create harmonious and well considered solutions.
RKD Architects was founded in 1913 and, through the last century, the practice was primarily involved in the development of projects supporting the infrastructure of modern Ireland, starting with the rebuilding of Dublin after the 1916 rising and again after independence in the 1920s.
David studied architecture in UCD and, during his undergraduate years, he spent two years studying and working in the United States. He joined Robinson Keefe and Devane in 1979 on graduating from UCD and he worked on industrial education and healthcare projects as well as acting as Project Architect for the Third Phase of Irish Life's Abbey Street Headquarters.
From 1986-92, David ran the RKD London office and led the business development of the practice there as well as leading various office, industrial, and apartment projects.
On his return to RKD in Dublin, David was involved between 1993-2007 in industrial and commercial projects, including the Hewlett Packard Campus in Leixlip, Guinness Storehouse, Independent Newspapers Citywest, AIB Bankcentre Extension, Guinness Brewery Waterford, Department of Agriculture Backweston Laboratories, Bank of Scotland Offices, Stephen's Green, Riverside 4 Dublin Docklands, Whitestown Way Mixed-Use Development and Icon Leopardstown offices along with many other commissions. He has also led and designed numerous masterplanning projects including Millennium Park Naas, Grange Castle Business Park Clondalkin, Hilltown New Town Clonee, Dairygold Mallow Urban Expansion, King Fahad Medical City Riyadh, Bahrain International Investment Campus, Hewlett Packard Campus Leixlip, Aer Rianta Airport Business Park and, more recently, the proposed new Guinness Quarter at St James's Gate Dublin.
In recent years, David has been primarily involved in business development, both in Ireland and internationally, with RKD while continuing to work on early project concept design, practice management and the agreement of contracts with clients and contractors.