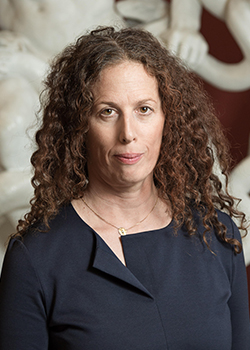 The Crawford Art Gallery is National Cultural Institution dedicated to the visual arts.
Through its temporary exhibitions, publications and education programmes, the Crawford Art Gallery is committed to fostering recognition, critical assessment, and acknowledgement of historical and contemporary Irish and international art practice. Located in the heart of Cork city, the gallery is a critical part of Ireland's cultural and tourism infrastructure, welcoming over 200,000 visitors a year.
Previously Mary held the post of Director of National Sculpture Factory, Executive Arts and Culture Manager for Dublin Docklands Development Authority, and Director of Programmes for Cork 2005, European Capital of Culture. While there she was responsible for the initiation of many large scale civic programmes as well as new works and commissions.
Mary frequently moderates international events and has previously worked with the European Commission as a European Capital of Culture bid assessor.
Mary has recently curated Cork Conversations in collaboration with Cork City Council -a series of talks and workshops focused on generating dialogue on city making. Mary is passionate about the arts and a strong advocate for collaborative city making practices.