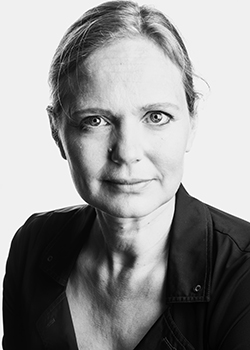 Rikke Juul Gram is partner and CCO in Schønherr, where she has worked for the recent 18 years – the latest 10 of which as office manager and part owner. She is the creative director of the office and nationally respected as a specialist in public, urban, and landscape spaces.
Her work is characterized by a strong focus on the artistic and poetic nerve in the development of ideas and vision, strategy and concept development, process management and user involvement. This focus is felt in all the projects Schønherr engages in.
Rikke Juul Gram was the master mind behind Schønherr's ground breaking work with temporary urban spaces in the city of Aarhus. This strategy of life size 'modeling' of social spaces has since become an established methodology in Danish urban design.
Throughout her career, it has been Rikke's goal to work in interdisciplinary and intersectoral constellations. She often works in teams with building architects, artists, artisans, and academic profiles of both private companies and public relations. A collaboration that always gets the best out of the contributions of all parties involved.
Rikke is a member of "Kunstnersamfundet", The Royal Academy of Fine Arts and a Board Member of the Royal Academy of Fine Arts. She also serves as judge in architectural competitions, lectures in different contexts and functions as an external censor and examiner at the Danish schools of architecture.